Hello Runners!!!
Perhaps I did not evaluate enough in my introduction about why I love Running Man; after all, it was just an introduction! So, what is it about Running Man that makes it the most notable Hallyu variety show in the world? Here's what I think. (If you want a more lengthy and complex explanation for Running Man's popularity, you could check out this essay I did earlier Essay: Don't Walk, Run )
The Members
Running Man's most valuable asset is, without a doubt, the beloved members!!! Don't you remember when you firstsaw the show? You probably did not know anyone back then; I definitely didn't! But I soon saw how funny they were (and finally started to remember their names), and it was only a matter of time until all the Running Members became so likable and interesting. Yoo Jae Suk and his hilarious plays on words and leadership, the incredibly strong Kim Jong Kook and his occasional soft side, Ha Ha and his clever and somewhat crazy wits, Ji Suk Jin and his perpetual unfortunate state, the treacherous Lee Kwang Soo and his equally perpetual misfortunes, Song Ji Hyo and her no-nonsense intelligence and luck, and the somewhat philosophical Kang Gary with his relaxed attitude. There was also the enthusiastic Song Joong Ki and, as many consider her a member as well, our Lizzy!
In recent days, we have been surprised by the addition of two new members: the hard-working Yang Se Chan and the somewhat odd Jeon So Min! I want to talk more about the members… I think I'll need a lot more posts to cover everything about the members! Let me not drag this on, however; while the members are the most invaluable factors to Running Man's wonderfulness, there are other important features that I think contribute greatly to everyone's love of the show.
The Missions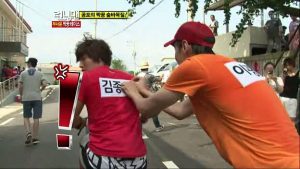 Perhaps the second most iconic feature of Running Man would be none other than the missions. What's Running Man without some awesome missions?? Whether we're watching Ji Suk Jin get victimized for the millionth time in a name-tag elimination or drooling at the delicious food some members get to eat as a reward, Running Man somehow keeps us occupied. Oh, and all those couple missions, the spooky scary missions, AND THE SPIES!!! Wow, there were so many unique and ingenious ideas, now that I think about it… wow… Thank you so much, to all of the Running Man PDs and staff!!!!!
The Guests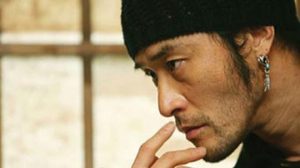 Of course, there are the guests!! If you're like me, you probably didn't really know anyone back in the day. But that probably did not stop you from shivering at the sight of Choi Min Soo, and we all loved it when we saw Jackie Chan on the show! Some guests were funny, some charming, some cute, and some downright hilarious! Hey, remember when we saw Song Joong Ki come back as a guest (for a short time) after a good 5 or 6 years? Or how about when we saw Yoo Jae Suk getting annoyed with Park Myung Soo? And poor Song Ji Hyo (and recently Jeon So Min) is always abandoned whenever some pretty actresses or idols make an appearance! Indeed, the guests of Running Man have contributed quite a bit to our love of Running Man!
Other Good Stuff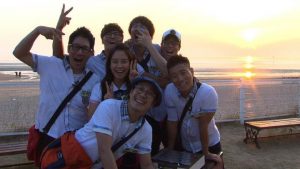 Well, to begin with, I've noticed that, compared to many other programs nowadays, Running Man is pretty decent and family-friendly, and this trait of Running Man means a lot to me. Another thing about Running Man that I like is that its like a soothing cup of tea after a long day; I'm sure it's like that for a lot of us out there. Lastly, seeing the Running Man members and staff working so hard just to entertain people inspires me, in one way or another, to work harder with my own duties; I just have to make sure Running Man doesn't become a distraction!
In conclusion, what can I say? Running Man is probably the best TV show I have ever seen!
Until next time, runners! 안녕!!!
– Jang Mi (장미)