Kim Jong Kook is a South Korean singer, actor, and TV personality. He debuted in the entertainment industry as part of the duo Turbo.
He pursued a solo singing career later on and ventured into acting and hosting. He is most notable for being a cast member in the variety shows X Man and Family Outing.
Kim gained global popularity when he joined the long-running SBS variety program, Running Man.
Born on April 25, 1976 in Hapcheon, South Korea, Kim attended Myeong Hak elementary School, Shin Seong Middle School, and graduated from Hansei University with a bachelor's degree in music composition.
He then attended Dankook University where he obtained a master's degree from the Pop Culture Performing Arts – School of Arts Department.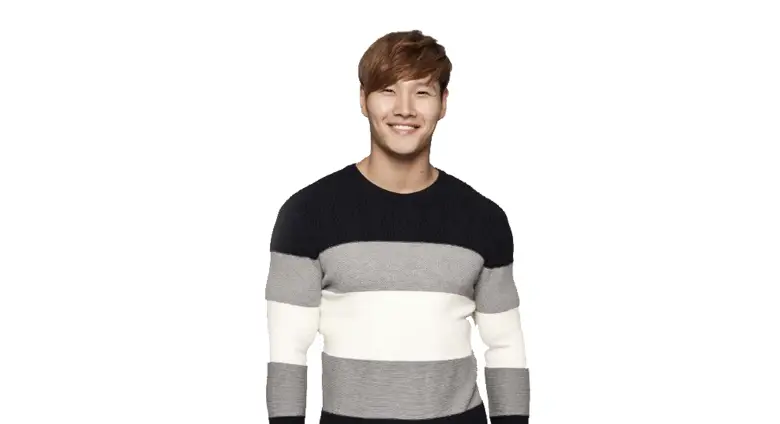 Career
Kim debuted in 1995 as a singer for the would-be popular duo Turbo under GM Agency. Being a former vocalist in a high school band, it was actually no surprise that Kim's entry to the entertainment industry was through music.
He was paired with a former DJ, Kim Jung Nam, who took care of the rap and choreography. The duo made immediate impact in Korea's music scene and became very popular because of their catchy music.
In 1997, however, Jung Nam decided to leave the group due to irreconcilable differences with their management. Meanwhile, Kim decided to stay and continue his promotions with a new member, Mikey.
Turbo maintained their popularity and went on to become one of the biggest stars in Korean music industry from 1995 to 2000, selling millions of albums and records across Asia.
The combo was called "dance music's scary kids" because of the sudden rise of their popularity and, later, kings of the Korean dance scene during their peak years.
In 2000, Kim left his agency after releasing Turbo's 5th album due to the expiration of his contract.
He then pursued a solo singing career concentrating mostly on ballads, which is a complete overhaul of what he was known for with Turbo. But in 2015, all three members (Kim, Jung Nam, and Mikey) reunited to celebrate the group's 20th anniversary since their debut.
They released a comeback album and performed a few shows including KCon in Los Angeles, California.
Kim's first foray in the world of variety was with KBS' Dream Team in 2001 where he was a part of the main cast for two years.
He also tried his hand at acting and made appearances both on television and film. His first acting project was a cameo appearance in the 2004 series Banjun Drama on SBS followed by another bit part in KBS' Special TV Story.
In the same year, Kim joined two other variety programs – X Man on SBS and Happy Sunday on KBS, both of which he was a regular cast of for two years.
In 2005, Kim made another cameo as himself in the drama Old Miss Diary on KBS, and joined the romance game show Real Situation Saturday Love Letter on SBS.
He also part of the main cast of KBS' Fly Shootdori, a program he had to leave abruptly after being served his enlistment letter that year.
After his military enlistment, the singer returned on variety programs in 2008 with SBS' Family Outing.
He was part of the show until 2010 before he became a regular cast of Running Man in the same network and has since simultaneously appeared in several other variety shows.
In 2012, he made another cameo appearance in the movie Wonderful Radio starring Lee Min Jung. He also joined another variety program – Escape Crisis No. 1 – until it went off air in 2016.
He won the Best Entertainer Award at the 2013 KBS Entertainment Awards for the program.
In 2014, Kim joined jTBC's Everybody as one of the main cast. The following year, the singer brought his variety skills to China and became part of CCTV's Ding Ge Long Dong Qiang.
He also added another cameo appearance on his list in 2015 with Hurry Up Brother Film, a Chinese adaptation of the Zhejiang Television series Running Man, which is also patterned on the popular SBS program of the same title.
The film was a box office success in China, grossing around US$ 70 million during its run, with approximately US$ 32 million from its opening weekend alone.
That same year, he landed another cameo role in the SBS drama The Girl Who Sees Smells and made his official acting debut with a supporting role in the KBS series The Producers.
The singer-turned-actor was praised by critics for his "solid acting chops" in the drama.
2015 also marked a new beginning in Kim's career in the industry when he signed a new exclusive contract with Maroo Entertainment on October after the expiration of his contract with Urban Works ENT the previous month.
In 2016, Kim became one of the main MCs of the KBS variety show Talents for Sale, a program where the hosts try to raise funds for local charities by advertising the talents of their guests.
Prior to its original release, KBS announced that Talents for Sale, along with travel-oriented magazine program Battle Trip, will be aired in China under a ₩ 1.62 billion contract making it the first South Korean variety shows to be exported to China prior to its official broadcast.
That same year, he officially made his singing debut in China with the single "Hate That Happiness Came" and did another cameo for two episodes of the KBS drama, The Sound of Your Heart.
That same year, he did another cameo for two episodes of the drama The Sound of Your Heart.
In 2017, Kim continued to stamp his mastery of variety programs with Mnet's reality singing contest I Can See Your Voice, Naver TV's Big Picture where he is joined by fellow Running Man MCs HaHa and Lee Kwang Soo, and KBS' Dragon Club: Childish Bromance with some of his closest friends in the entertainment industry – Cha Tae Hyun, Jang Hyuk, Hong Kyung Min, and Hong Kyung In.
On Running Man
Kim joined Running Man as one of the regular cast members alongside Yoo Jae Suk, Lee Kwang Soo, Ji Suk Jin, Haha, and Song Joong Ki.
The squad had a few changes in the lineup with the addition of actress Song Ji Hyo in the first season, the departures of Joong Ki and Gary, and the addition of Jeon So Min and Yang Se Chan in the current season.
With several years of hosting variety programs, Kim was a perfect fit on the show. This was further proven when he won the Best Star TV Award for the program at the SBS Entertainment Awards a year later.
The success of Running Man further increased Kim's popularity in South Korea and also made him a celebrated entertainer in Singapore where he had a soldout show attended by 1,700 fans.
He also became a recognized name in China, consistently topping polls and being voted #1 Korean singer on the streaming website, Tudou. He was also ranked second most popular Korean male celebrity on Chinese search engine, Baidu.
Kim exhibited his great relationship with co-stars on the show, with some of the members participating in the release of his seventh album, Journey Home, in 2012.
The album marked his return to the music scene after a three-year long hiatus. Among the members who participated in the album are HaHa, Gary, and Song Joong Ki, who also starred in the music video for the album's lead single "Men Are All Like That".
In 2014, he officially formed a duo with HaHa and they are collectively known as Running Man Brothers. The duo held a concert tour in the United States in July and December of the same year.
Alliances and relationships on Running Man
KJK with Yoo Jae Suk – Eternal Rivals, Running Man's Two Pillars of Power
Kim and Yoo's relationship sprouted from their frequent arguing and joking whenever they meet. They are constantly trying to win over the other, but Kim usually ends up winning their mini battles. They are seen as the two strongest players on the show.
KJK with Song Ji Hyo – Commander and Ace
The two first teamed up on episode 21 as the Chasing Team in their Bells Hide and Seek mission. From then on, their tandem remains to be one of the strongest teams on Running Man. Their team name comes from their many nicknames on the show—Kim as commander and Song as Ace.
KJK with Ji Suk Jin – The Strongest and the Weakest, The Awkward Partners
The duo was formed when, in a hunting episode, they were the first two to get eliminated from the game. The set had an awkward mood because it was one of the few times that they were together as losers in the mission. Yoo also pointed out that the pair consists of the strongest and the weakest member among the cast. Hence, the name.
KJK with Lee Kwang Soo and Ji Suk Jin – Serengeti, Animal Kingdom, Kook-Easy Brothers
All three members have animals for nicknames on the show. Kim is the tiger, Lee is the giraffe, and Ji is the impala. Thus, whenever they are grouped together, there is always a serengeti vibe.
KJK with HaHa – My Big Brother and My Little Brother
Kim and HaHa always treats each other as brothers and it is very evident on the show. They also often end up on the same team making their bong stronger. Their closeness went beyond the program, even forming the Running Man Brothers duo and performing and touring together.
KJK with Lee Kwang Soo – Commander Kook and Disciple Soo, Tiger and Giraffe
Kim and Lee always display a relationship on the show like that of the cartoon Tom & Jerry. They are often seen trying to one up each other despite the stark differences in their physiques.
Kim's brutes and stern aura earned him his "Commander Kook" title, while Lee's soft and seemingly weak personality earned him the title "Disciple Soo". This is also because Lee usually ends up following Kim's orders even when they are against his will lest he be punished by the Commander.
KJK with Jeon So Min – Kook-Min
The Kook-Min alliance was formed when the two of them had to do a secret mission together leading to the Global Race Project. In that episode, they were tasked to name a member who will get the Whale Badge within a minute without the other members discovering that they are working together.
KJK with HaHa, Lee Kwang Soo, and Yang Se Chan – Kim Jong Kook and His Three Lackeys

The alliance was created thanks to Yoo when he called the group as such after being teamed up together. Kim, with his strength and physique, was unofficially appointed as the leader, while the three other members who are not as strong and physically fit were relegated to being his lackeys.
The four of them also seem to always have some sort of connection, which the other members can't quite figure out.
KJK with Gary, HaHa, and Lizzy – Kim Jong Kook and the Two Kids, Kim Jong Kook and the Three Kids*

The group's name was a play on the name of a popular South Korean boy band in the 90s, Seo Taiji and Boys.
It was formed when the two playful members, Gary and HaHa, always found themselves in a team under the leadership of Kim.
The name was later changed to "Three Kids" when former cast and After School member, Lizzy, joined the team.
Running Man Controversy
On December 2016, fans of Running Man were shocked after it was announced that Kim, along with fellow member Song (Ji Hyo), are leaving the show.
News have been going around that the show will be reformatted as part of the preparations for the new season. The addition of new hosts was also in the works with the likes of veteran host Kang Ho Dong in talks of joining the program.
However, news broke out that Kim and Song were not informed of their removal from Running Man beforehand and that they only found out about it from the media.
This brought severe backlash to the producers of the program, especially from loyal viewers and supporters of the two.
Upon learning of plans to usher in a reformatted program by 2017, Kim and Song agreed to finish the current season and donate their earnings from their remaining episodes to charity.
On January 2017, the cast met with the program runners and announced that all of them will be leaving the show.
Kang also refused to sign a contract with Running Man after learning about what happened to Kim and Song. It was revealed that Kim also tried to persuade the other members to stay on the show.
The producers and the cast members, particularly Kim and Song, came to an agreement that the two will stay on as hosts of the program after the producers issued a formal apology.
Running Man continued with the six remaining original cast members and welcomed two new members – Jeon So Min and Yang Se Chan.